Benefits of Concrete Flooring Solution for Commercial Spaces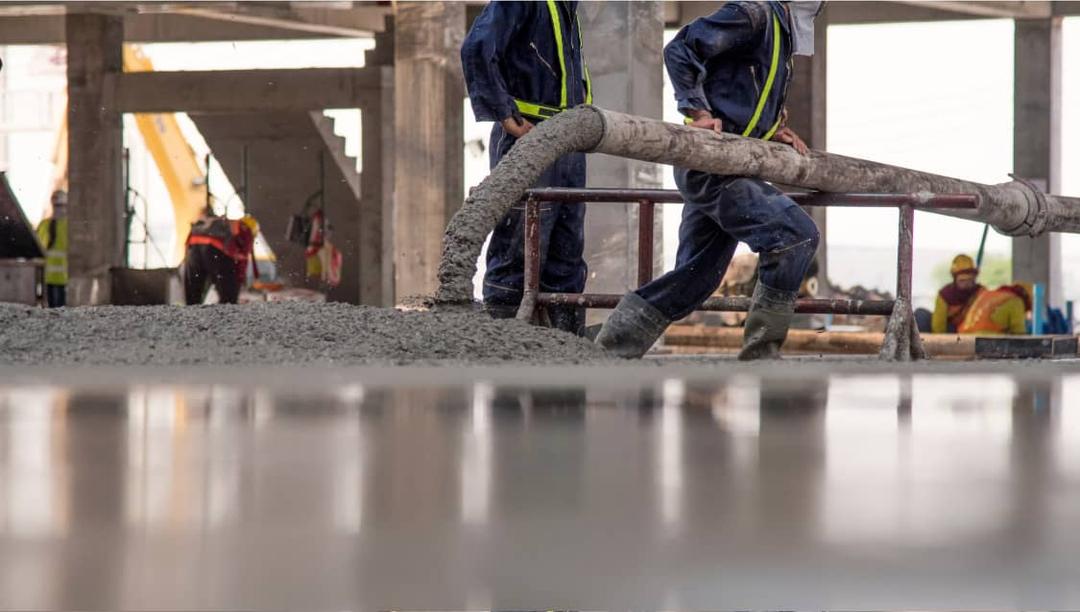 Last Updated on October 13,2023
"The way to get started is to quit talking and begin doing. Action is the foundation of all success, especially in building lasting solutions."
Walt Disney
Welcome to the world of commercial spaces redefined by timeless elegance and sheer audacity of unique industrial flooring solutions. If you think concrete is boring, think again! We are about to turn your perception about this age-old building material upside down, revealing how
jointless concrete floors
using
advanced concrete technology
, is the ultimate blend of function, fashion and with its fabulous family-friendly designs can make your business empire find solid ground. In this blog, let's explore the benefits of concrete surfaces that are both business-savvy and design-centric making it "concretely'' captivating.
Unveiling the Benefits of Concrete Flooring
Flooring can be a strategic choice that impacts operations, maintenance costs and overall safety. Concrete laying solutions are often underestimated in its potential, though it offers a treasure trove of uniqueness that can transform any heavy-duty business operations and bring in efficiencies that can create multiple domino-effects leading to endless cycles of positive value creation.Our vast experience at
Midas Concrete Flooring Solutions
suggests
Durable yet cost-effective -For warehouses and medium to large scale industries where operations with heavy loads, forklifts and relentless continuous processes are the norm, concrete flooring shines as a durable solution. Long-lasting composition and cost-effective offerings make them the go-to-choice alternative for companies seeking high-performance flooring solutions without breaking the bank.
Quick Installation -Minimize disruption to your business operations as installations of concrete flooring are among the fastest among all flooring solutions. Also optimized control joints in flooring ensures minimal interventions.
Lower maintenance costs -Say goodbye to labor intensive cleaning solutions for more productive hours in your workspace, due to superior and relatively easy concrete dusting solutions.
Chemical-resistant -With suitable coatings, concrete can be easily made resistant to mostly all kinds of industrial chemicals be it for pharmaceutical, manufacturing or warehousing facilities handling a wide range of chemicals.
Slip-Resistant -Concrete floor polishing ensures safer navigation in heavy traffic floors enhancing productivity and seamless flow of traffic.
Impact-Resistant -With latest floor densification and laser screed flooring techniques, concrete is ideally suited for heavy-duty industrial flooring applications.
Exceptional Leveling through precise laying techniques -Super flat concrete floors are non-susceptible to warping, buckling, or inconsistencies in the subfloor. Expert floor leveling contractors ensure that you get an impeccable level surface that is not just aesthetically pleasing but also functionally superior.
Styling with Substance -Advances in concrete flooring designs means you have a floor that performs as well as wows any one who treads on them. Choose from a wide range of coloured concrete flooring options.
Sustainability with every step -The natural thermal mass of concrete allows it to absorb, store and slowly release heat, ensuring minimal wastage in cooling solutions and contributing to energy efficiency.
Highly Reflective Surface -Concrete floor polishing ensures your workspace is well illuminated in natural lighting conditions thereby reducing energy consumption.
Improved Air Quality -Unlike synthetic materials, concrete emits no VOCs (Volatile Organic Compounds) making your indoors safer for your crew members and staff. Also it is not naturally susceptible to mold, dew and fire making it widely applicable for most of your safe spaces.
High Versatility -It provides a solid foundation for change as it can be overlaid with different materials to change the aesthetics of your environment without compromising on the other advantages with refined services of floor refinishing near you
Easy Restoration -Your investment would stand the test of time, as concrete can be easily filled, buffed, polished. Not only that, but also concrete floor restoration can be efficiently accomplished through minimal interventions.
Applications of Industrial Concrete Flooring:
Retail Stores -The robustness of concrete ensures that it can withstand heavy foot traffic as well as heavy goods movement via forklift or shopping carts.
Restaurant and Cafes -Ease of maintenance, clean and hygienic dining experience makes it a preferred choice among foodpreneurs.
Warehouses and Distribution centers -Durability and chemical-resistant nature along with seamless finish are essential for uninterrupted and efficient movement of goods and hence find wide applications in warehouse mezzanine floors.
Gyms and Fitness Centers -Slip resistant and resilient nature of concrete prioritize safety and durability.
Hotels and Resorts -Its versatility to adapt to different material overlays while maintaining structural integrity is what makes concrete flooring the go-to choice for its luxurious space needs.
"The highest manifestation of strength is to keep yourself calm and be on your own feet."
Swami Vivekanada
In wrapping up our journey through the concrete jungle of commercial flooring, let's not forget that beneath those polished surfaces lies a world of practicality, style, and sheer endurance. Concrete has been the unsung hero in a variety of settings, including the stylish showrooms of auto dealerships, the busy aisles of supermarkets, the serene lobbies of five-star hotels, and the sweat-stained gym floors.
So, why choose concrete? Because it's more than simply a floor; it may be a blank canvas for your creative aspirations, a barrier against daily wear and strain, and a wise long-term investment. It's where functionality meets fashion,where low maintenance meets high performance, amplifying your dreams to endless possibilities.
In the world of commercial flooring, concrete isn't just a choice; it's a celebration of strength, style, and success. So, whether you're stepping into a new project or renovating an existing space, consider the concrete advantage. It's the ground beneath your business's feet, ensuring you stand tall for years to come.When you're ready to take that leap, remember that our experts are just a call away, ready to turn your concrete dreams into reality with that Midas Touch.